Chiropractic Care
Finding Relief, Naturally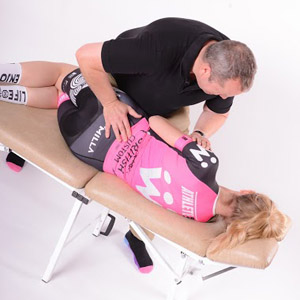 The idea behind chiropractic care is simple. Dr Neil Reilly offers a solution to health challenges that does not involve medication or surgery. Often, irritation around your nerves can result in painful joints. Neil focuses on removing this irritation, alleviating discomfort of conditions such as
Back pain
Headaches
Neck pain
Sciatica
Customising Your Care
The benefits of chiropractic care may include pain relief as well as increased mobility, enabling you to become more active and take responsibility for your own health. Neil prescribes care plans that are individualised to your needs following a comprehensive assessment to understand your condition.
Neil is well-versed in several techniques, including Activator Methods®, Myofascial Trigger Pointing, Sacro Occipital Technique® (SOT®), Thompson and Toggle Recoil. Instrument-based and manual methods are offered, suiting all ages and health conditions.
Freeing You From Pain
Chiropractic adjustments don't hurt, though if your joint is inflamed the area can feel tender. You might be seen more often at the beginning of your care. If you're in acute pain, Neil may recommend that you come in three times a week for the first week. Then, twice a week for a couple of weeks, stepping down gradually until you're only seeing us once every 6-12 weeks, depending on your case.
Feeling Comfortable in Our Experienced Hands
If you have not seen a chiropractor previously, please be assured that you'll be in good hands. Neil's many years of experience used to your benefit. He'll explain what we're doing before starting, demonstrating exactly what you can expect and only beginning when you're comfortable and ready.
Don't be held back by discomfort. Contact us today to find out how we may be able to help you! Open early and late for your convenience.
---
Chiropractic Care | 07776 306682